I. Overview of PV product export in 2019
In 2019, China's total export of photovoltaic products (silicon wafers, cells, modules) was about 20.78 billion US dollars, with a year-on-year growth of 29%, exceeding 20 billion US dollars for the first time since the "Double Anti-dumping" policy, reaching the second-highest in history, and the export volume of products in all links hit a new high.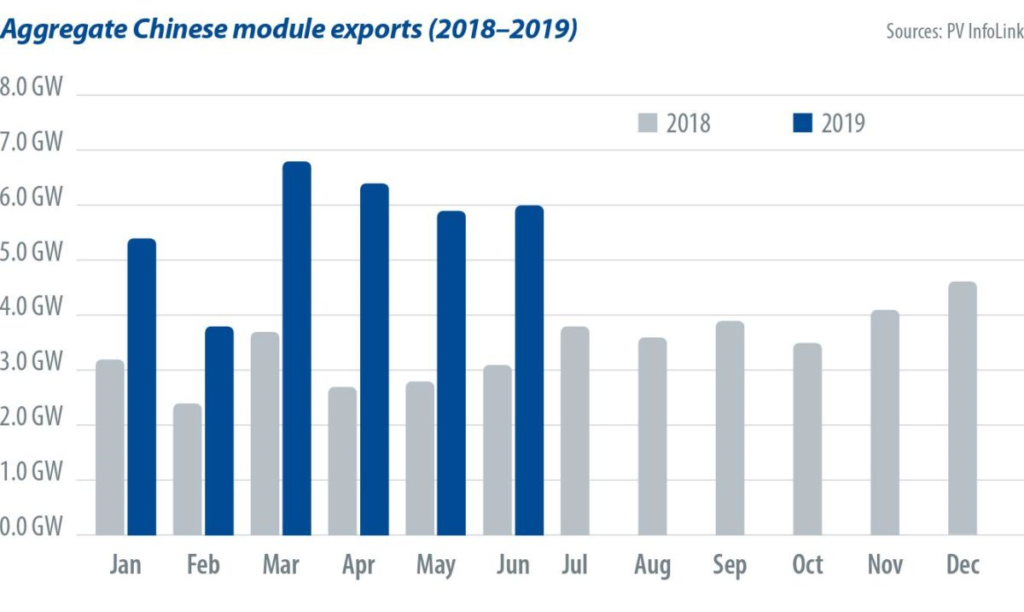 Among them, the export value of silicon wafer, battery wafer and module was 2 billion US dollars, 1.47 billion US dollars and 17.31 billion US dollars respectively. In addition to the decline of silicon wafer export, the export value of battery wafer and module increased significantly year-on-year. Exports were 5.18 billion pieces (about 27.3GW), 10.4GW and 66.6GW, respectively, all exceeding the total exports of 2018. In 2019, the cost of capital, technology, with advantages of our pv leading enterprises to expand unceasingly, overseas business is further pressure on and accelerate the exit, the industrial chain each link further to concentrate in mainland China, overseas downstream production line more choice wafers, cells, and other products imported from China mainland to meet the production requirement. In 2019, about 85GW of new overseas photovoltaic installations were installed, an increase of about 37.7% year on year, which boosted the demand for module products in the overseas market. With the accelerating pace of Chinese inverter manufacturers going abroad, the export volume and export volume of inverters in 2019 were $2.34 billion and 52.3GW, with a year-on-year growth of 176.7%.
In terms of exporting countries/regions, the export of photovoltaic products to the top 10 export markets was about US $13.8 billion, up 29% year on year, accounting for 66.4% of the total export of photovoltaic products, basically flat with the previous year. Malaysia and Thailand slipped out of the top 10, while the Netherlands and Spain made it into the top 10, with the Netherlands emerging as the number one export market.
From the perspective of export enterprises, nearly 4,700 enterprises and trading companies exported photovoltaic products in 2019, an increase of nearly 2,000 compared with 2018. Among them, the export of photovoltaic products from the top 10 enterprises was about US $12.38 billion, accounting for 59.6% of the total export of photovoltaic products, down 2.2 percentage points compared with 2018. Six companies exported more than $1 billion, including JinkoSolar, Atris, JA Technology, Trina Solar, Longji Green Energy and Orient Risheng, two more than in 2018.
II. Prospects of import and export of photovoltaic products.
In 2020 With the continuous improvement of the cost competitiveness of photovoltaic power generation, photovoltaic power generation has become an important part of the new installed capacity and an important way of energy transformation in more and more countries. Previously, most of the industry research institutions have predicted that the scale of photovoltaic installed capacity in 2020 will increase steadily. However, in 2020, the sudden "COVID-19" spread rapidly around the world, causing a series of impacts on the global supply of photovoltaic equipment and project construction. Overseas GW-level markets were affected by the epidemic. PV power generation projects in key PV markets were delayed or stopped, and domestic orders were required to be postponed or suspended. International logistics, overseas market expansion, and other trade businesses were all limited. This will lead to a significant decline in market demand, photovoltaic module exports are not optimistic. From the perspective of polysilicon imports, the improvement of domestic polysilicon supply capacity and the withdrawal of overseas polysilicon production capacity are the main reasons for the further decline of the proportion of polysilicon imports. From the point of view of supply and demand, China's polysilicon production basically meets the demand, and imports are only used as supplements, but high-quality polysilicon materials used for efficient battery sheets still rely on imports.