Today, energy production is the largest source of greenhouse gas emissions, so a clean energy transition is key to balancing economic development with carbon neutrality. To reshape the global energy landscape, it is necessary to increase the share of renewable energy in total final energy consumption, from 17% in 2017 to 28% in 2030, and then to 66% in 2050. Perhaps these goals will only be possible when fossil fuels are replaced everywhere with renewable energy sources such as solar, wind, and hydroelectric power.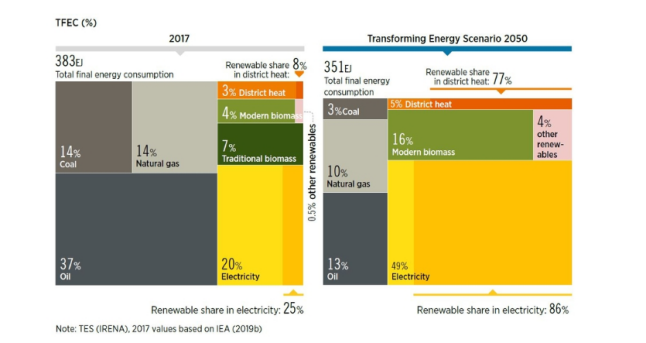 At present, some economies have developed roadmaps to gradually move towards global renewable energy targets, the European Union being a prominent example. The EU has proposed a plan to set a renewable energy target of 40% of total final energy consumption by 2030. This proportion is not only much higher than the global target of 28%, but also higher than the EU's original legally binding target of 32% that came into effect at the end of 2018. However, Asia is lagging behind in its clean energy transition. In 2017, the renewable energy adoption rate was 8% in East Asia, 12% in Southeast Asia, and 8% in the rest of Asia, which is lower than the EU's 17% .
To catch up, governments across Asia have formulated clean energy strategies and formulated policies to encourage private investment in clean energy. This trend has also been intensified by the COVID-19 pandemic, which has highlighted the importance of developing renewable energy to address supply chain bottlenecks and energy security issues, making renewable energy more important.
In addition to the generous financial incentives provided by local governments, more and more Asian traders are also noticing that most of the world's industry leaders are making greater commitments to sustainable development, including the use of renewable energy in their global operations and supply chains. Considering various factors, Asian players have begun to formulate long-term renewable energy strategies to remain competitive.
NEFIN is a leading solar solutions provider and investor in Asia, providing carbon neutral solutions to organisations looking to meet their Environmental, Social and Governance (ESG) targets. HKTDC Research interviewed its CEO, Fung Chiu Lam, to find out how this shift to sustainable energy is changing the business landscape in Asia.
Towards RE100
NEFIN has been engaged in solar asset management business in Asia for nearly 10 years, and has been working closely with global companies over the years with its dual headquarters in Hong Kong and Singapore. NEFIN assists commercial clients in developing and executing ESG and renewable energy strategies in the Asian region, serving multinational corporations, as well as their Asian production partners and suppliers.
Lin Fengchao pointed out that the complete use of renewable energy has now become the common vision of global business leaders. He said: "The vast majority of business leaders have a common goal of achieving RE100, or 100% renewable energy, with a vision to make companies carbon neutral and meet ESG goals. In addition to using clean energy in internal operations, these The company is also working closely with suppliers to improve energy efficiency and move towards RE100."
He continued: "Apple is a very bright example. The technology giant is determined to make all its operations, manufacturing supply chains and product life cycles carbon neutral by 2030 or before. In 2020, Apple's Global facilities have reached RE100 and are working with suppliers to bring 4 GW of clean energy, with an additional 4 GW to be provided in the future. Other large companies such as Philip Morris and Nespresso, has made similar commitments."
Lin Fengchao emphasized that in the future, merchants will strengthen their performance in sustainable development, including the use of renewable energy, and create value for global customers. He said: "Financial markets are a big driver for companies to make sustainability commitments and improve their ESG performance. Companies need to take a multi-pronged approach, including RE100, to achieve carbon neutrality. There is no doubt that this situation is driving the entire Global supply chains are undergoing radical changes, and more and more companies are considering their sustainability performance when awarding contracts to suppliers and evaluating their performance. Asian players should understand that their commitment to promoting sustainable development includes committing to the use of recycled content Energy is now no longer an investment, but an obligation."
Renewable energy investment environment
Lin Fengchao said that with the improvement of regulatory transparency of compliance requirements and the introduction of many generous support programs in various regions, the investment environment for renewable energy projects in Asia has greatly improved in recent years, that is, the governance (G of ESG) has achieved results. . He called on Asian traders to seize this golden opportunity and invest in renewable energy projects now to help prepare companies to reach the RE100 benchmark in the near future.

According to Lin Fengchao, Hong Kong, Singapore, Thailand, Indonesia, Japan and Macau are all fast-growing markets in Asia. Taking Hong Kong as an example, he explained how local governments have taken actions to encourage enterprises to invest in renewable energy: "To make renewable energy more attractive from a financial point of view, Hong Kong has launched a generous 'feed-in tariff' scheme to allow renewable energy system owners to invest in renewable energy. Selling renewable energy to two power companies in Hong Kong at a price as high as five times the normal electricity price, thereby shortening the payback period of renewable energy investment from more than 15 years to about 5 to 6 years.
He continued, "Regulatory authorities in Hong Kong, including the Electrical and Mechanical Services Department and the Buildings Department, have also formulated specific regulatory frameworks, including laws, regulations and technical guidelines related to the installation of solar energy projects. Or the applicable laws and regulations for the installation of renewable energy systems on the premises, so that the owners, electrical engineers and outsourcers know what to do.
When asked if he had any suggestions for companies that are interested in or are currently preparing to implement RE100, Lin Fengchao pointed out that companies must consider two factors on the road to RE100: time span and budget. Companies should use both as a starting point when hiring ESG consultants to refine their strategies and develop and execute action plans.
Lin Fengchao also talked about the strategic role of ESG consultants in these projects, he said, "Unlike outsourcers who are responsible for specific work areas, NEFIN, as an ESG consultant, will provide customers with comprehensive solutions, covering strategy formulation, project planning, project Financing, project management and asset management."
Another benefit of employing ESG consultants is that the design, installation and operation of renewable energy systems can be optimized, resulting in better operational efficiency and improved return on investment. Lam Fung-chao took the solar photovoltaic system of HK Electric Lamma Power Plant as an example to illustrate the superior performance of the NEFIN solar photovoltaic system: "The rooftop solar system has a power generation capacity of 1 MW and generates 1.1 million kWh of electricity per year, in other words, the conversion rate exceeds 1,100 kWh. electricity, the conversion rate is about 30% higher than the 800 to 900 kWh of a typical 1 kW solar system."
Lin Fengchao said that some ESG consultants will also review the situation of enterprises and provide appropriate financing plans so that they can have greater financial flexibility when developing renewable energy projects. Taking NEFIN as an example, he said: "With the rise of green finance all over the world, we have obtained green loans in Hong Kong and raised funds from the abundant capital pool in Hong Kong. In this way, we can provide funds for some people who only want to make a small amount or even no initial investment. An investment partner with attractive financing options."
Lam Fung-chao suggested that if companies want to select senior and professional consultants for their first ESG and renewable energy projects, they should take a more comprehensive approach when bidding: "Many large companies have a list of approved suppliers and outsourcers, and It is stipulated that only companies on the list can bid. However, given that these projects are a new category for many companies, and ESG consultants tend to specialize in very specific areas, it is not surprising that these companies are not on the list. As a result, ESG consultants are often excluded from the vast majority of tenders."
He continued: "Companies should consider changing the sourcing principle of the lowest price to a value-for-money approach, placing more emphasis on holistic solutions provided by ESG consultants. They can submit a package of plans covering ESG advice, Implement implementation and maintenance, including additional services such as artificial intelligence real-time data monitoring and analysis services to help detect failures and optimize performance. These additional services are essential to avoid costly errors and improve return on investment, It helps companies meet their ESG targets. Therefore, it makes sense to include the associated costs when formulating the overall budget."
In recent years, governments across Asia have successively formulated more specific green goals to drive their economies towards carbon neutrality. For example, Hong Kong, South Korea and Japan are all committed to achieving carbon neutrality by 2050, while China In the Mainland, the deadline is 2060. Lin Fengchao estimates that this will inject tens of billions of dollars into the renewable energy industry in the Asia-Pacific region. "In terms of annual investment in commercial solar projects alone, mainland China will reach $60 billion by 2060, and the rest of Asia will have $20 billion to $25 billion over the next 20 to 25 years," he said.
In addition to encouraging corporate investment, Lin Fengchao also called on governments across Asia to take the necessary public actions to fully realize the economic potential of renewable energy. After all, no economy can achieve RE100 through business investment alone. For example, governments across Asia could consider installing floating solar power systems in reservoirs, as well as importing renewable energy from neighboring countries via HVDC transmission, he said. He hoped the authorities could examine the feasibility of each available option in detail.
Lin Fengchao believes that as more and more Asian companies and governments aim to achieve carbon neutrality, the prospects for the renewable energy industry will become increasingly bright. Over the past 10 years, NEFIN has established a solid reputation and strong foundation in the industry, so he believes that the group can thrive in this trend.