Recently, the distributed photovoltaic power generation project in Heyun Town, Qingxin District, was officially completed and connected to the grid on the carport in front of the town government office building and the roof of the dormitory building. So far, Heyun Town has become the first town in Qingxin District to adopt the energy management model to develop photovoltaic projects in public institutions and buildings whose property rights belong to government departments.
Rows of neat photovoltaic panels are shining and eye-catching under the sunlight. This is the highlight of Heyun Town's exploration of photovoltaic industry to empower rural revitalization, and it is also the exploration and development of Heyun Town's insistence on ecological priority and green development. engine.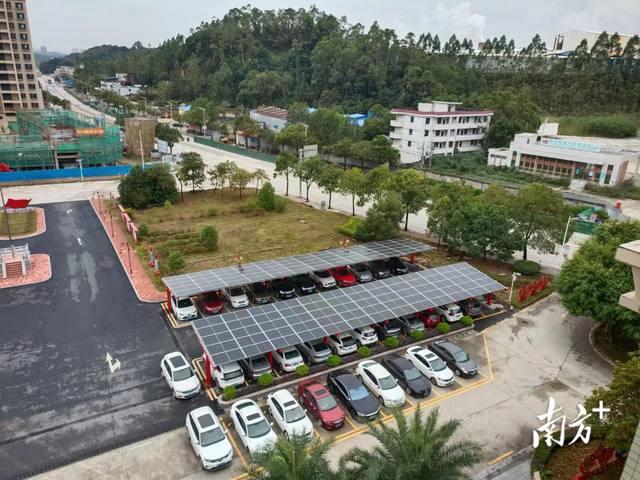 For a long time, Heyun Town has been adhering to the concept of "green development, helping rural revitalization", taking the photovoltaic industry as an important measure to consolidate and expand the achievements of poverty alleviation and effective connection with rural revitalization, focusing on building distributed photovoltaic power generation, and releasing the potential of co-construction, sharing and sharing The "new bonus" has become a vivid footnote to the implementation of the "Ten Action Plans" of the Qingyuan Municipal Party Committee and the construction of "ecological freshness".
Adapt measures to local conditions
Do a good job in the demonstration of power generation construction in villages and towns
As we all know, solar energy is a safe, green, clean and sustainable energy.
Going forward towards the sun, green "carbon" cables. Focusing on the orientation of green development, Heyun Town vigorously develops the green circular economy, actively plans, makes good use of policy resources, and takes photovoltaic power generation as an important starting point.
"How to promote rural revitalization with high quality is a key issue that we have been thinking hard. After sufficient research in the early stage, we believe that we can use the advantages of lighting resources and idle resources such as government collective building land and office building roofs to vigorously develop distributed photovoltaics. Power generation industry." Said the cadre of Heyun Town.
Today, a photovoltaic power generation parking shed located in front of the town government has become a beautiful landscape, which is particularly spectacular when viewed from a high altitude. The parking shed project covers an area of 1,200 square meters, of which the road area is 400 square meters and can accommodate 90 vehicles. It is the first "zero-carbon" carport in the town. At the same time, it is equipped with new energy vehicle charging piles, parking lots and charging piles nearby. As an important supporting project of government departments, it undertakes the important function of serving the people conveniently. On the roof of the government dormitory building, this old building built in 2006, echoes it with 126 photovoltaic panels shining under the sunlight, gathering "energy" and contributing "light and heat".
It is reported that Heyun Town started to plan this project, conducted sufficient research in the early stage, completed the project review, kept a close eye on the progress and quality, and reversed the construction period. From the start of construction to grid-connected power generation, it took only a short period of more than 30 days. Relying on resource conditions such as government collective building roofs, large outdoor parking sheds and other sufficient sunlight, Heyun Town has built a distributed photovoltaic power generation project according to local conditions to help fully realize rural revitalization.
Precision policy
Transformation from the old to the new, fostering surging momentum for rural revitalization
According to reports, distributed photovoltaic projects have the advantages of no pollution, stable income, easy management, and sustainability. One-time investment can benefit long-term.
The parking shed adopts a photovoltaic integrated structure. The photovoltaic panels are erected on the steel truss above the parking space, and the photovoltaic panels are used to replace the roof of the carport, which can prevent the vehicles from being exposed to the sun and rain. Heyun Town adopts the model of "spontaneous self-use and surplus electricity connected to the Internet", which not only beautifies the environment, but also serves multiple purposes.
At present, photovoltaic power generation projects have been vigorously promoted in Xishe and Nanshe villages. The project will help the transformation of rural revitalization from "blood transfusion" to "blood production", activate a new engine for rural development, and cultivate new momentum for rural revitalization.
Heyun Town's promotion of photovoltaic power generation projects on the roofs of public buildings and idle places is to thoroughly implement the new development concept, actively promote green cycle development, help the conversion of old and new kinetic energy, and build a new model and new format of green, low-carbon and high-quality development, which will become a solution Effective measures for urban-rural dual structure.
Integrated development
Create a "new bonus" of co-construction, sharing and sharing
With "photovoltaic +" as the focus, Heyun Town tries to explore a new complementary model of "down to industrial agriculture, up to power generation", and strives to drive the transformation and upgrading of the industry, and accelerate the development of the photovoltaic industry and other new technologies, new industries, and new formats. Integration and radiation will drive the development of ceramics, cultural tourism and other industries, which is of great strategic significance for Heyun Town to build "one city, two parks and three places" to shift gears and speed up.
"We have zero investment in this photovoltaic power generation project. We only need to provide idle resources for installing solar photovoltaic power generation equipment. The lighting conditions are good, and you can benefit from basking in the sun. It is convenient and efficient." A department of Heyun Town said the person in charge. In addition, if you want to know how much electricity the photovoltaic panel can generate every day, you can check it anytime and anywhere by opening the manager. If there is a failure, it will automatically call the police and have specialized personnel to repair it. The later management and maintenance are also trouble-free and worry-free. .
Heyun Town regards the construction of photovoltaic power generation projects as an important starting point for practicing the concept of "green development and rural revitalization". Share the "New Bonus" shared.
Complementary functions
Demonstration for green, low-carbon, intelligent new energy office
According to reports, the Heyun Town Distributed Photovoltaic Power Generation Project, which is now in grid-connected operation, was jointly constructed by the Heyun Town People's Government and China Resources (Qingyuan) Solar Power Co., Ltd., with a total installed capacity of 205.7kWp. The project uses 3,775 photovoltaic modules, no noise, no radiation, no pollution, with an average annual power generation of 200,000 kWh, an average annual saving of 80 tons of standard coal, a reduction of 199.4 tons of carbon dioxide emissions, 6 tons of sulfur dioxide emissions, and 3 tons of nitrogen oxide emissions .
"The distributed photovoltaic project not only maximizes the utilization of collective buildings and effective resources, but also turns these resources into a 'cornucopia', leaving long-term beneficial fixed assets for government departments." The relevant person in charge of Heyun Town said, In terms of administrative costs, the current average grid price is 0.65 yuan/kWh, and the current negotiated price is 0.453/kWh. If the plan is based on 200,000 kilowatt-hours of electricity a year, more than 40,000 yuan can be saved.
Small photovoltaic panels, exerting great energy, is a vivid practice of innovative ideas to promote township industries, and it is also an effective way for townships to reduce administrative costs. Standing at a new starting point, the distributed photovoltaic project is a demonstration for Heyun Town to build a green, low-carbon, intelligent new energy office, and it has also become a powerful engine and strong support on the development road, making the development of the township more solid and bottom-lined. The color is brighter and the picture scroll is more magnificent.